Lucy Lawless on Entertainment Tonight
September 13, 1996
Hercules has a lot going for him and Xena, Warrior Princess is pretty tough too. Not only can she beat up the bad guys, but she does it in skintight leather.
My Xena costume is just a second skin.
Watch out everybody, Xena is back on the prowl for her second season.
Lucy Lawless who plays the lioness in leather is just happy it's finally on the air...
...in her native New Zealand
My mother loves it, and the kids at my daughter's school, so what could be better than that?
Well, there's the fact that her show was last season's highest rated new syndicated series, and Rosie O'Donnell says Lucy was her show's most requested guest. A recent visit allowed Lucy to show off another side. [Brief excerpt of Lucy's Cowboy song].
But back in New Zealand there is work to do. Lucy says all the action keeps her so busy...
...that there's no need to work out anymore.
I was doing a 14 hour day and then going to the gym. And for about 8 months I did that 5 times a week and it just about killed me.
But it payed off. Her tough but sexy image has even spawned off a Xena action figure.
This is really cool. Look, she's got her little bikini on...
...'cause it's a bit cold, a bit nippy down here.
It is winter down under in New Zealand but that isn't enough to stop Xena.
Xena rides in chariots in two degree weather and gets very wet in hardly any clothes, but she does it for you.
[Music chord ends]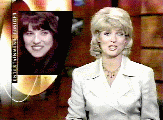 While the kids at Lucy's eight year old daughter Daisy's school love the show now, Daisy wasn't so sure it would be like that at first. Daisy told her mom she was scared the kids might think Xena was dumb. Fortunately mom has turned out to be a very cool thing to watch. Xena's new season starts up the week of September 30th in syndication.




Return to my Xena Page